Latest Listings Updated Hourly
Find the latest listings available in your area in an easy to use search!
Find a Home »
Meet Allison
I am a local market expert who will deliver you excellent results and service
Connect with Allison »
Get a Pro Home Valuation
Would you like to know the value of your home? Get an expert evaluation!
Get your Report »
Home Page Text
Allison Ziefert Realtor in Maplewood, NJ
The Allison Ziefert Real Estate Group is a top-producing team at Keller Williams MidTown Direct Realty, the #1 real estate brokerage in Maplewood and South Orange, NJ. We are local market experts specializing in Maplewood, South Orange, West Orange, Millburn/Short Hills, Livingston, Summit, Chatham, Montclair, Glen Ridge, Bloomfield, Springfield, Union and surrounding New Jersey towns.
If you are looking to sell your home, you should know that our listings sell in half the time and for thousands of dollars more than market averages. If you are a buyer, you should know that we love getting to know new families and quickly connecting them with the right properties– even in a competitive market.
It's always our goal to provide the highest level of boutique real estate service coupled with candid advice and data so that our clients can make the best real estate decisions. The Allison Ziefert Real Estate Group has platinum level sales volume, but for us, the biggest reward in real estate is earning an excellent and heartfelt client testimonial from a happy buyer or seller.
Allison, Ginge, Laura and Jamie are a fantastic team and we had a wonderful experience with them from beginning to end with the sale of our former home and the recent purchase of our new home. Their professionalism, attention to detail, honesty, integrity and expertise made our experience enjoyable and as stress-free as it could have been. I cannot recommend them enough!

Ginge and Jaime and their team helped us move on short notice, showing us a ton of homes in one weekend and then guided us expertly through the bidding and closing process. I can't recommend them highly enough!

Ginge's constant attention to detail, super-responsiveness, thorough knowledge of the housing market and efficient planning made the selling process as easy as possible for us. We felt completely comfortable working with her through every step of the process. If any roadblocks came up, Ginge would solve them immediately. Her willingness to go the extra mile to make things happen helped us to keep the selling process on track. She made selling a house way less stressful than it could have been. Ginge is a true professional who knows her stuff inside-and-out. This, combined with the fact that she added her warm, caring and friendly touch to every interaction left us knowing that we had the best partner on our side.We highly recommend Ginge to anyone considering a real estate transaction.

After renting for almost 20 years we decided to leave NYC and head west to the burbs. Buying our first home was daunting and scary and we had no idea what we were doing. Every realtor we met with spoke like this was our third or fourth house. Shrugging off my questions, glossing over the process and casually using words I've never heard before. Then we met Ginge. And at our first meeting she was able to explain the entire process of buying a house; start to finish this is what you can expect. She had a way of making the complicated simple. I never felt like she was talking down to us. The opposite really—it felt like she was on our team. Fast forward a few months to an accepted offer on a house and Ginge goes into business mode. What was just fun and dreamy shopping quickly turns into the largest financial negotiation we've ever made. She was there at every step. Answered every text, every phone call. Followed our lead when we knew what we wanted and advised us when we didn't. She was instrumental in negotiating a great deal on a beautiful new home. We've now been in our house for about 5 months and she's still answering questions we have as home owners. She's an incredible resource. I highly recommend her and everyone at AZ. Thanks Ginge!

Ginge (and team) were amazing! They were very helpful, upfront and honest and found us a great home. Closing was seamless and as painless as these things can be. Highly recommend especially if you, like us, are moving to the area from Brooklyn. Thanks again for all of your help! 

Allison, Ginge, and Laura are a superb team when it comes to selling your house. They are thorough, informed, and innovative. No matter what problem arose in selling my old home of 40 years, Allison could propose a solution. There are probably several area realtors who can handle a simple house sale. However, when the sale becomes complicated, the inspections troublesome, and the details cumbersome, I strongly recommend the experienced Zeifert team.

Allison was our agent when we purchased our home in 2015 and we naturally turned to her for help again when we decided to sell in 2019. She was an excellent seller's agent, advising and guiding us every step of the way as we prepped our house to be listed. When the house listing went live we couldn't believe how amazing the photography and custom website looked! Allison and her team truly made the house look the best it has ever looked. She also steered us in the right direction regarding pricing and we happily accepted an offer on our house after less than a week on the market. Allison and her team also helped us through all the "under contract stuff" (and in New Jersey there is a lot of "stuff") and what could have been extremely stressful ended up being essentially stress-free. All in all it was a great experience, and I can't recommend Allison and her team enough. 

Ginge and her team were amazing! Buying our first home felt overwhelming and intimidating, but Ginge held our hands through every step of the process and honestly made it so easy. Ginge was open and honest and listened to every worry and idea we had. Beyond that, she was just a joy to work with—full of good ideas for how to make our home ours, lots of solid info about the neighborhood, and super easy to get along with. Honestly can't recommend Ginge and her team highly enough!!

From start to finish Ginge and her lovely team held our hand through the whole search and buying process. Whenever there was a challenge, Ginge had fantastic recommendations to overcome and find a solution. She is intuitive, she listens and she understands a buyer's needs. She is determined to do the best and go above and beyond. She will help you find a place to really call home.

Allison represented me in the sale of my home.  From the beginning of the process, she and her team, including Ginge and Laura, provided detailed information every step of the way.  I was impressed with their extensive knowledge of the Maplewood market and the research that is done to develop the appropriate sales price.  I had never sold a home before and felt reassured by their thorough explanation of everything from preparing home for sale, pricing, listing, closing and negotiating the sale etc.  It was extremely helpful that Allison's team scheduled the necessary inspections and Laura came to the rescue with a compliant fire extinguisher in her car when ours wasn't going to pass!  This saved the day and we didn't have to reschedule. Allison was always available for questions and provided expert and calm advice in the midst of nerve wracking situations. Everyone on the team is professional and personable creating an experience I would gladly recommend to anyone buying or selling.

A terrific agent backed by a great team.

My partner and I had a wonderful experience working with Ginge and the rest of the team at Allison Ziefert Real Estate Group to buy our house in West Orange. The whole process went much faster than we anticipated (we found our house on our first day out with Ginge!) so, as first-time homebuyers, we had a lot to figure out in a short period of time. Ginge and team are incredibly responsive, organized and well-informed about the local area and the real estate process; they made sure things ran as smoothly as possible. We relied on their recommendations for our attorney, mortgage banker and inspectors and were very happy with the entire team we worked with. If you're looking for a dedicated and knowledgeable professional to help with buying a house in the West Orange/South Orange/Maplewood area, I would highly recommend Ginge and her team.

We want to thank Ginge and the AZ team for helping us through the process of finding and purchasing our first home! Ginge was so easy to work with - incredibly friendly, patient and responsive. We had a lot of questions with this being our first home and she was always there for us and went above and beyond to make sure that all of them were answered. Her knowledge of the area and contacts was a real asset. She truly did everything she could to make the process less stressful. We really appreciated how Ginge took a true interest in getting to know us and what we were looking for. She became a friend who welcomed us into the community. Wherever you are coming from, working with her will make the transition easier and smoother. Confident you will be in good hands with Ginge and the AZ team.

Allison and her team were amazing. They represented us in the estate sale of an apartment. They were efficient, detail-oriented, accommodating and sensitive to the emotional aspects of selling a loved one's former home. They made sure we knew what had to be done and helped us do it. They handled appointments and inspections so we didn't have to. When one member of the team was unavailable, others were ready and able to step right in. We recommend them unequivocally.

We are so grateful to Ginge and the whole team at A to Z. Ginge supported us before, during and after a stressful and hurried cross-country move with the dedication and precision we required in an agent to make the move happen. Ginge goes above and beyond what is expected with a direct but friendly personality to get the job done. With little knowledge of the area, we counted on Ginge to give us her honest opinion on so many issues and felt supported in every aspect of the process through countless personal calls, texts, emails, and explanations. Buying the home that best fit our unique needs was our ultimate goal, but the bonus came in the addition of a wonderful friend and ongoing support and contacts through the community at A to Z that has continued well after closing.

I have known Allison as a neighbor with a love for the built-world around her, for over 20 years and that is why I trusted her when it came time to sell our house. Allison knows our hometown, it's neighborhoods and it's houses inside and out. Her hyper-local knowledge paired with a healthy dose of tech support and a calm, rational demeanor were exactly what I was looking for in an agent. In professional life, when faced with a task that I have little knowledge of, I hire an expert in the field and trust them completely. Selling our home was just such an occasion and Allison was the skilled professional I needed for the job. Her digital marketing skills kept our property visible and her experience-based knowledge of the market, and its nuances, resulted in a very quick sale of our home. Allison and her team supported my decision-making by providing hard data when I requested it and heart-felt understanding when emotions ran high. The team performs their job with so much precision and clarity that the whole process seemed effortless. If you are looking for an agent, I highly recommend Allison Ziefert and her team for all of your Real Estate needs.

Looking for a house and moving after 36 years in one place is not an easy task. If you want to live closer to the grandkids, you do what you have to do. My daughter, who found a house through Allison, highly recommended Allison Ziefert Real Estate Group. From day one, when Allison met with us to go over our preferences in a home through the closing, Allison and her team stayed on top of everything, making certain everything was taken care of and keeping us posted on what to expect. Even at the most stressful of moments, Allison would call, remind me to take deep breaths and calm me. The best part is, this team really knows their job, neighborhoods and referrals for services. They are professionals and a very caring group.

We cannot say enough positive things about our experience working with Ginge, Allison, and the rest of the A to Z team. Ginge took the time to understand our family and our needs, which really helped personalize the buying experience, and her knowledge of the local market was invaluable. Not only did Ginge (patiently!) help us find both a rental house and our new home in Maplewood, but she has also been an incredible connection to the community and source of excellent recommendations (which is essential to relatively inexperienced home buyers!). We enthusiastically recommend A to Z to anyone looking for a home in the SOMA/MAPSO area!

My wife Alyson and I were very happy with the professionalism and hands on effort of Allison and her entire team. We appreciated her keen sense of the local real estate market, the methodical approach to marketing the property and the help the AZ Team gave us from offer to closing. Near the end of the process we had already moved away from NJ and Allison's team was extremely helpful in getting us through the final steps of selling the house.

I can't recommend Allison's team highly enough. They were a total pleasure to work with from beginning to end. Perhaps more importantly, they really know their stuff. There's nothing better than having someone anticipate your questions and needs, which they did every step of the way. Ginge, the buying specialist, seems to have an encyclopedic knowledge of what's on the market and what was a good match for our needs. If you're house hunting in South Orange, Maplewood, or surrounding towns, you can't go wrong with Allison's team!

The Allison Ziefert Real Estate team made my home buying experience feel like a breeze. Ginge was an absolute pleasure to work with! I always felt like she had my best interest in mind and fought for me every step of the way. She was always available and listened to my concerns and expectations. I can confidently say she is absolutely the best! As a first time home buyer, I would recommend Ginge (Sarah) to anyone looking to buy their first (or second, third, etc.) home.

Allison and her team helped us sell our much-beloved house - we went under contract in less than 48 hours! We are grateful for their help throughout the process and a hectic out-of-state move. Highly recommend.

We really enjoyed our experience working with Ginge to secure a rental home in Millburn, NJ. She was friendly, thorough and very organized in the search process. Since you have to go around and see a bunch of places with your realtor, having someone as engaging, trustworthy and approachable as Ginge is a real plus. She understood what we were looking for and provided us with good advice. I also thought she handled the necessary negotiations with the other side quite well, securing us an earlier move in date and getting changes to the rental agreement approved. We'd like to work with Ginge again when we consider buying our own home in the area.

We cannot say enough good things about Ginge and A to Z Real Estate Group! My husband and I started the search with Ginge a few months ago and were a bit under pressure as we are expecting our first baby in just a couple of weeks. Ginge was on it from day one! She brought us to dozens of homes, spanning multiple towns (because we had not made our mind up on location) all with the patience and professionalism you would hope for from a realtor. We never once felt pressured, forgotten about or misunderstood. We ended up getting one of the very first houses we saw and the one we loved the most. It was a lot of work on Ginge's part but she got it done for us and we could not be happier. On top of all that, we also just really like Ginge! She's personable, fun and makes the whole process as easy as possible. Five stars all the way!!

While the process of renovating, selling and moving is something that I never want to go through again, the part that was managed by Allison Ziefert was the least stressful part of the process. She gave good advice, got an offer for the house the first weekend for the asking price and successfully guided the offer through to the sale. Exactly the hoped for goal. Allison deserves her excellent reputation.

We highly recommend the AZ Group at KW. As a rental property owner, it's a pleasure to have the AZ team working for us. They are professional, smart, honest, conscientious, knowledgeable, and extraordinarily efficient. From printed and online marketing to showings to lease signing, Ginge and Allison make doing business easy and delightful. We trust our investment in their hands.

We recently bought a house (3/2019) and Ginge and the entire AZ team were a pleasure to work with. We both work and have young kids, so working around our schedules can be demanding, but Ginge and her team were responsive, professional, and were able to guide us through to find our home. I would highly recommend Ginge and the entire AZ team for buying and selling.

After going through the home buying process (for the first time), it became very obvious to us that all realtors are not created equal. And we totally struck gold with Ginge and the AZ team! We've read many of these reviews and are here to tell you that they are 100% accurate. Ginge. Is. Awesome! Brooklyn people, or any people for that matter...if you are considering a move to the New Jersey suburbs we really could not recommend Ginge more highly! Ginge and the entire AZ team know the market inside out, provide honest practical and strategic advice, and really spend time getting to know exactly what you are looking for in a community and a home to steer you in the right direction. Buying a home, especially for first-timers, can be confusing and frustrating at times. Personally for us, it was a long and tedious process (about 18 months), but Ginge was in our corner throughout it all. She never once wavered in her enthusiasm and support. Ginge is a true professional; extremely knowledgeable, honest, tenacious and ethical – exactly what you want (or should want) in your realtor. The SOMA market in particular is very competitive and you are going to spend a lot of time with your realtor, so you really want someone who listens to you and is there when you need them. Even if you end up needing them...a lot!  In addition to being a wonderful realtor and advocate, Ginge is funny, engaging, cool, has great taste and is clearly well respected in the broker community. The kind of person you want to spend time with, no matter what! We love our house and seriously cannot thank Ginge enough for all of her hard work. Call her now!

Ginge is fantastic!! We had a difficult move as we were moving our family of four (including two dogs and a cat) across the country and Ginge was able to meet all of our needs from a distance. Our transaction was complicated for a number of reasons but Ginge handled it all with grace and professionalism. The entire team is wonderful and I would definitely recommend their services!

In one word, Allison was AWESOME. We were referred to Allison Ziefert, a Realtor at the Allison Ziefert Real Estate Group - Keller Williams MidTown Direct Realty Team by our neighbor and I am so very, very happy we were. Last month, we sold our home in Maplewood and she was OUTSTANDING. First, she does something that many other Realtors don't do (but should). She really LISTENS to her clients' needs. So, whether you are emotionally attached to your long-time home or just mentally overwhelmed with the process of downsizing, she is definitely the person that you want to help you get through this journey. Secondly, her knowledge of the market, network connections, hustle and tenacity exemplifies the essence of working smart and doing whatever is necessary to close the deal. She always provided good advice and was more focused on answering our questions, no matter what time of day, by returning phone calls, texting or emailing.. She has such a great attitude, is personable, honest, and presents a level of confidence that reassures you that she has your best interest at heart at all times. We now consider Allison a friend and would highly recommend her to anyone selling or searching for a new home. Thanks again to Allison and the Allison Ziefert Real Estate Group - Keller Williams MidTown Direct Realty Team for being such a pleasure to work with.

Allison, Ginge and their team are truly wonderful. My husband and I were nervous about making the move from the city to the suburbs, but Ginge and Allison held our hands the whole way. From helping us pinpoint the right towns, to figuring out what we really wanted in a house, to walking us through the purchase process, they were with us every step of the way with valuable insights and advice. The relationship never felt transactional and they took their mission to find us the right house in the right community very seriously. We also appreciated the importance they place on community. They raise their families here, are well known and respected, and give back to local charities. They have become friends and are still giving us new homeowners lots of helpful tips and advice!

The Ziefert Group is a glowing five stars all the way. We have no hesitation in recommending this team for any of your real estate needs. Ginge was recommended to us and we immediately knew she was going to be a great match to help us with our Brooklyn to Maplewood move. She was "on it" in a real way, thinking of things before we did, offering great advice, and she is a rare combination of nice and helpful without being sugary sweet or (too) assertive. We really hope Ginge remains in our lives and continues to be a presence. She is very special! Allison stepped in when Ginge could not and is equally with it, responsive, nice and super helpful. The back office of the team is great as well - we received multiple helpful hints about our move, relocating, new town, etc. We have very high expectations of professionalism and expertise and this team did not disappoint. They truly personify the charming, beautiful, and warm towns of Maplewood and South Orange.

Ginge at A to Z Real Estate listened to and took in our every single need and desire for our first time home purchase. When we saw duds, Ginge would keep us laughing with her dry British humor and not let us get discouraged. When we looked at places not right for us, Ginge would reign us in and redirect our focus. We ended up finding the most perfect home and we look forward to having Ginge over for a glass of wine!

We had a fantastic experience with the Allison Ziefert Real Estate Group representing us as buyers of our first home. They were patient, flexible, thoughtful, kind, and provided immediate responses to all of our inquiries. We knew nothing about home buying. Relocating from another city, we also knew nothing about the communities we were looking at homes in. Ginge held our hands through every step. Even after the closing, Ginge and the team at Allison Ziefert stay in touch to make sure that our transition to a new community is seamless. We can't recommend them highly enough and would absolutely choose them again.

We can not recommend Ginge Calhoun and the entire Allison Ziefert team highly enough. From our first meeting with Ginge, we felt excited and confident about jumping into the intimidating first-time home-buying process. Ginge is a wonderful listener--she took all of our concerns and preferences into account and helped us find a home we love--and quite quickly, too! We closed in less than 40 days, and it took less than 3 months to find our home in West Orange (a lovely 1930's Tudor). Ginge offers the knowledge of a local and her humor and wit made our process enjoyable. We trusted Ginge and she helped us through every single step of the process--we don't know when she sleeps! We also had the pleasure of meeting Allison. And we really appreciated Laura's help and reminders about what to do once we got very close to closing day. We will recommend Ginge to any personal friends and family interested in moving to our area--we hope you'll chose her, too!

Above and beyond - my wife and I worked with Ginge Calhoun for nearly a year before we actually made our move from Central Texas for my wife's job. Ginge was patient with our ever-changing timeline, understanding of our needs, and went above and beyond to help us feel comfortable finding a place to live from so far away (including leading us on multiple FaceTime tours of potential properties!). We have decided to rent initially (Ginge helped us find a gorgeous rental home that is perfect for our family), and look forward to working with her again as we now search for our next home!

We recently bought our first home and could not have done it without Ginge and the AZ team! Ginge and Allison are kind, genuine people and are so easy to work with. They provided a wealth of knowledge about the Maplewood/South Orange area and pros/cons to consider while looking for a home. After we found the house of our dreams, Ginge was there for us every step of the way. She happily answered all of our questions throughout the process and was proactive with the follow ups needed to get us to close on time. Ginge is honest, organized and always had our best interest at heart. We are so happy we chose Ginge and the AZ Realty team and highly recommend!

Deciding to sell my home was not an easy one, and the Allison Ziefert team was there for me every step of the way. I had so many concerns and questions, and everyone worked together to help make my house sell, as well as finding me the perfect new home. The team's knowledge was simply amazing, and when I called or sent an email, I would receive a fast and detailed response back. They didn't treat me like just a client, these ladies took their time to understand what I was looking for, took great care to stay within my budget, and even came over to help me get the house ready for sale. Whether it was Ginge calling me to calm me down, or Allison to review the process, or Laura setting up appointments, this team stayed on top of everything. I am so happy I decided to use this group to sell/buy my home and recommend them to everyone.

Ginge is smart, funny, super nice and knows her business. Best I've ever worked with!! She found renters for my house in 3 days of listing. Maplewood, NJ is a great neighborhood. Great neighbors, great schools and a fun downtown. Great NYC style night life.

Working with Allison, Laura & Ginge was a pleasure. They were all knowledgeable, professional and very personable. The process of selling a home can be daunting and very emotional, and they made the process as stress free as possible. They were all very responsive to any questions I had. I would highly recommend this team. Thank you so much ladies for all you did for me.

We had a fantastic experience working with Ginge to buy a home in Maplewood. Ginge was a delight to work with throughout the entire process - she quickly understood our requirements and helped us to find and secure our dream home in a very competitive market. As first time buyers she guided us through the process and was there at every step to answer questions and offer her well-informed thoughts and suggestions. If you're looking for someone who is motivated and highly responsive but also able to bring a calm, objective perspective then Ginge is the agent for you! We would not hesitate to recommend her and the rest of the Allison Ziefert team.

We're so glad we worked with Allison and Ginge to buy and sell our homes. Ginge was our point person for finding our new home and was such a joy to work with.She found us exactly what we were looking for and guided us through the buying process. She was incredibly organized and responsive, and when things were stressful, she always knew what to say to make us feel comfortable. Allison partnered with us to sell our home and was fantastic. She was so thoughtful and strategic in her approach, and with her direction, we were able to sell quickly and over our asking price. Both Allison and Ginge have much experience and truly understand the South Orange/Maplewood market. They connected us with lots of great local vendors. We'd definitely recommend working with them.

Purchasing your first home can be extremely overwhelming….unless Ginge is your real estate agent! We had the most amazing experience working with Ginge to find our forever home. We started our search without a clear picture of what to expect, but Ginge took the time to educate us and guide us in such a way that was beyond comforting. She always had our best interest at heart. She was knowledgeable, kind, patient, unbelievably organized and always there to answer any one of our million questions. We found our dream home and we couldn't have done it without Ginge and the AtoZ team. Not only were we able to find a beautiful home to call our own but also made a new friend and neighbor in the process!

Allison & her team are very efficient and they did a great job helping me buy a property. Buying a house can be hard and they know how to manage the process and keep things stress free. I am a fan.

Allison and Ginge are amazing!! We used them for a recent home sale and purchase. I can't say enough good things about these ladies. Every last detail was taken care of, down to helping with child and dog care on a crazy double closing day. Moving is difficult but with the help of these fabulous agents we were able to close on time and coordinate some tricky scheduling. We sold above ask and bought our dream house!

We loved working with Ginge more than I can say! She made house hunting FUN, she was always responsive, had our best interest at heart, fought through the ups and downs of house hunting and in the end she got us exactly what we wanted and needed. She kept us optimistic and moving forward even when things got tough and didn't back down from a challenge. I can't say how much I appreciated the work she did for us and would absolutely recommend her to anyone.

In Selling, Allison and her team were great, they moved quickly, were wonderful to work with, and sold our house for more than we thought we could - and in less than three weeks! In buying, OMG I could not want a better agent than Ginge, she was absolutely a joy to work with. I trusted her so much and she never let us down. She had our backs 100%, stuck through all the ups and downs of buying and in the end got us exactly what we wanted. This team is the best!

The process of buying a house was extremely overwhelming and frustrating especially as a first time buyer. Ginge was able to keep us calm and was always available to talk us off the ledge when things got hairy (inspection negotiations are not fun). She had an extensive knowledge of the area market and gave good advice on how to make a competitive offer in a very seller friendly market. Ginge was always sweet and supportive and communicative. She did a great job schooling us on what to expect along the way and her calm energy was very needed during such a stressful time. The whole AZ team was extremely organized and went above and beyond to ensure we were happy and found the house of our dreams.

I had a great experience with Ginge. Sharp, friendly, conscientious, she made my first home buying experience extremely smooth, quick and painless. Ginge was able to quickly zero in on properties that met my needs. She assisted me in coming up with a competitive yet reasonable offer. She was very helpful in assisting me with the communication between seller, lawyer, mortgage broker. Highly recommend.

Working with Allison and her team was a pleasure. They were very helpful in all aspects of marketing my home and did a great job bringing in prospective buyers.

This was a difficult move, both emotionally and physically. Allison and her team, Ginge and Laura, were by my side through the entire process. They were always checking up on me. And Allison found me the perfect home, which I am very happy in. I wouldn't use anyone else. They are the best! They know their stuff, they know these towns and they handle everything in a kind and compassionate manner.

We had a fantastic experience buying a home in New Jersey with Ginge. We, like many people in the area, were interested in the 'burbs without knowing a lot about the area where we wanted to live, and Ginge's expertise, sense of humor and congeniality made the whole process fun. She was mindful of our budget, honest and realistic. I would certainly work with her again and recommend her to anyone looking for a smart and savvy realtor.

Allison helped me sell a house and buy another one, both in South Orange. She provided expert advice on how to get the first house ready to show, and worked diligently to bring in the right buyers. At the same time, she was making sure I quickly saw houses for sale that would be right for my family. Allison was always in touch; and made sure I knew what was happening at every step without any sales pressure at all on either transaction. If you want to work with someone who will treat you like a professional and a friend, Allison is the woman to call.

Allison is a top-notch realtor who seems to have limitless patience and attention to details. She's super organized and attentive and always puts herself in the clients' shoes. Most importantly, she's very in tune with the market conditions, and possesses the technical know-how to dissect the nuances of houses. She's the most trusted advisor you can find in this industry.

There are not enough fantastic things to say about the experience my husband and I had with Ginge. As first-time home buyers, the process was so daunting. We were so apprehensive because we did not know what to experience. However, from our first phone call, we knew that Ginge would be able to guide us to find the home we had in mind. Ginge truly spent the time to get to know us and our likes and dislikes, and never was pushy or made us feel like doing something we were not comfortable with. Spending time with her was highly enjoyable and we felt that Ginge was always in our corner. From the first consultation to closing, Ginge was professional throughout the process. If there was anything that could make Ginge better, she had a planned trip out of the country and responded to emails and questions, just as if she was still in town! My husband and I are forever grateful for Ginge and her tireless work. There is no doubt that she is fantastic at what she does!

We had such a fabulous experience with Ginge. As first-time home buyers in a competitive area, we were a bit intimidated and didn't quite know what to expect and what questions to ask. Ginge and the AZ Realty team really guided us and always made us feel comfortable - there was no such thing as a dumb question! She went to bat for us when she needed to, and we developed such a great relationship with her and the rest of the team. They made buying a home as easy and painless as possible!

Allison & Ginge were phenomenally helpful throughout our recent home purchase. They helped us find a home we love and importantly made sure we got it! We had a lot of questions as first time home buyers, and they were helpful/supportive every step of the way. We really felt like they cared about us as clients. Would also add they were extremely flexible and were completely on top of every detail throughout our faster-than-normal closing period.

We recently closed on our first home with Ginge Calhoun's help. Having used many agents before on various rentals, we can honestly say Ginge blew them all away. She is extremely responsive, proactive and supportive and she was there for us every step of the way with expert guidance and advice. I would definitely recommend her to friends!

Ginge is incredible. We are first-time home owners and, in our search, we had a lot of questions. From wandering around basements looking for sump pumps to talking about the pros and cons of certain neighborhoods, Ginge truly held our hands throughout the entire process. She was always reachable and she helped explain various processes that we would need to complete upon making an offer and accepting it. She was also simply lovely to work with, which made it all better. We just closed on our house, and we're so happy with it. We couldn't have done it without Ginge!

We highly recommend Allison to prospective buyers and sellers. Allison was extremely professional and knowledgeable. She gave us much needed advice and proactively reached out when there was an opportune time for us to continue our house hunting. She listened to our feedback and concerns and helped guide us with her extensive knowledge of the real estate market and of the local area. And her assistance extends beyond real estate, providing advice on local schools, and helping connect us with families nearby that have children of similar age. If you are looking for a dedicated, smart and professional real estate agent, Allison is the best in the biz.

We feel so lucky that a friend recommended Allison to us! She is incredibly professional and knowledgeable....more of a matchmaker for real estate than real estate broker. She listened carefully to what we really wanted and helped us find an amazing home. It wasn't staged and had been sitting on the market for a while so we also got a great deal! We were first time home buyers, with two children under 2 and a half, so we had a ton of questions and were pretty overwhelmed in general-she helped us navigate the process and was able to really give excellent advice and support during the negotiation portion. Her entire team is fantastic. If moving from the city to the suburbs with small children sounds completely overwhelming to you (it did for us)....you will be in great hands with Allison. She also helped connect us to painters and handy people and has been available for questions even after we moved in. Thank you Allison!!!

My husband and I cannot recommend Allison Ziefert highly enough! She has gone far above our expectations, making our home purchase adventure as stress-free (even enjoyable!) as possible. Allison is not only a superlative realtor, but she has also been a tremendous support to us, as we settle into a new community, offering stellar references for local services, from pediatricians to electricians. You will be in the best of hands with Allison...and South Orange is pretty great too.

Stop reading reviews and call her. That would be best. But if you'd like additional convincing, here goes! We met Ginge on our first trip to the West/South Orange area from Brooklyn. We had no real knowledge of the area other than hearing good things and seeing prices of homes we could actually afford. We were those Brooklynites holding on to the brownstone dream that was a bit (lot of bit) out of our reach so when we met Ginge weren't exactly excited to be looking in New Jersey. We found a house on Zillow we wanted to check out, Ginge was the listing agent. Within the first hour of hour of meeting her, we started to get excited about possibly building our lives in this not Brooklyn town. Ginge showed us the house we contacted her about and she showed up prepared with a handful of additional homes. Not only did she take us to beautiful areas we couldn't deny but she shared her personal experience of moving from the city to Jersey. A few hours later we had gained a real estate agent we were extremely excited about, and a new friend. Shortly thereafter we found our home. Unfortunately we ran into nightmare-ish issues, 100% on our part, with our lender. If there is an award for longest closing ever - we win. Ginge could have dropped us and sprinted in the opposite direction screaming "I told you so" on numerous occasions. But she never did. She wiped our tears, held our hand, supported our choices and fought for us until we crossed the finish line. And even after we, unintentionally, put her through all that - she remains our cheerleader, and good friend. We are truly blessed to have her in our lives. Ginge is an honest, witty and kind, well prepared, very organized, completely on top of it, make you feel like you're her one and only client, wonderful person. Call her.

We had a big move from Seattle, WA to Maplewood, NJ, and we needed to find our new home very quickly. Sarah "Ginge" Calhoun was amazing. She previewed the properties on our list, and did not waste our time showing us homes that would not suit our needs. We found our home in one weekend, and we love it! Throughout the process, Ginge gave us helpful recommendations for local vendors, which enabled us to close very quickly. Ginge also followed up with helpful information about utilities, schools, summer camps, recreation, etc. to make our family's transition as smooth as possible. I can't recommend Ginge Calhoun and the Allison Ziefert real estate group enough! Thanks, Ginge!

Allison and her team were professional, courteous, and easy to work with in selling our home. We had already bought another home and needed a quick, painless sell, yet we also wanted the best price for ourselves. Allison and her team were able to meet and exceed all expectations. The entire process was streamlined, efficient, and as easy as possible. We also have 3 young kids (under 4!) and NYC working hours/schedules, and Allison and her team were very accommodating in figuring out how to keep the disruption to a minimum. Allison had great recommendations and insights throughout the entire process, and we were able to sell and close quickly over asking price. We would highly recommend her to anyone selling their home in this area.

My wife and I first met Allison when we sought to move from NJ to Brooklyn. She was incredibly responsive and accommodating. She's also a tough negotiator! Through her guidance we found our new home in South Orange last month. I have already recommended her to other Brooklyn friends looking to make the move, and will do so again.

Ginge is fantastic! The home buying process can be very nerve wracking and Ginge was with us every step of the way. Ginge was knowledgeable about the area we were looking in and recommended a town we weren't thinking about that fit us perfectly. We can't be happier.

Ginge was wonderful! She was very flexible in scheduling and setting up home tours. She gave us clear feedback on homes and their status so we never felt like we were wasting our time. She is knowledgeable about the process and answered all our questions regarding our first home purchase. She made the (often daunting) process run smoothly by recommending and keeping up with other contractors/mortgage agents/etc so we never had to worry. She is very organized and went out of her way to make us feel comfortable. She made sure to check in so we were not overwhelmed or discouraged into settling on a property that wasn't the right fit. I highly recommend Ginge. She was such a pleasure to work with in buying our new home. Patricia G., Springfield

We first met Allison several years ago when we moved to a rental home in Maplewood. When we were ready to purchase a home in the area, Allison helped us navigate all of the complicated details. She was responsive to all of our needs and always followed up to make sure each aspect of our transaction was executed properly. Allison is very professional and handles pressure with grace. She presented all of the facts that we needed to make an informed decision about our purchase, and never pressured us into making a decision that we were not comfortable with. When we needed more information, she was always willing to make extra phone calls to get answers and help move our transaction along. She was extremely instrumental in getting us into our new home. As an experienced Realtor, I truly believe we would not have been able to close on our house if it wasn't for Allison's diligence.

Ginge was an absolutely fantastic realtor and I would recommend her services to everyone. She is at once professional and friendly and knows the real estate landscape extremely well. My husband and I were looking for a home in Maplewood, NJ for ourselves and our one year old daughter. We were moving from Brooklyn and had very little knowledge of the neighborhoods or the buying process. Ginge helped us to get to know the neighborhoods, and advised us handily on what can be a very intimidating bidding process. She also really took into account our tastes and made sure she showed us homes that we were sure to like. She responded to all my calls, texts and emails at all hours and always let us know if she wouldn't be able to get back to us immediately, but most of the time she could. Also, once we had a bid accepted, Ginge did not stop there and continued to advise us on contractors, painters, daycares for my daughter, and local things to do! I cannot recommend Ginge enough, especially if you're new to the buying a house scene. She really made my family and I feel comfortable and confident the entire time, and helped welcome us to Maplewood as well.

Working with Allison was terrific. She is extremely knowledgeable and gives good advice. She was instrumental in selling my home in a very short time after it was listed and the process couldn't have gone any smoother. I'm very glad to have chosen Allison.

Great realtor! Knowledgeable, effective and a good communicator . She was able to provide valuable referrals for all phases of the preparation to list, secure 4 offers over list price in just four days, and follow through during some difficult negotiations. I would highly recommend her services!

Thank you Allison for helping us through the process of buying our first home!!! Having been renters for all of our adult lives (dependent on doormen and building staff for everything), my husband and I finally got the urge to move to the suburbs from Paulus Hook, Jersey City after having 2 kids in 2 years. When we met Allison in her office, she patiently walked us through the basics of home-buying, discussed her process and answered our questions, while keeping my kids entertained with random office supplies she cobbled together for them to play with. Allison is a realtor with great taste and provides honest feedback, which is critical when considering important decisions in a competitive market. We started looking in Maplewood and South Orange but she steered us to our eventual location, lovely West Orange. She took my calls day and night, responded to every email and text, and had all the paperwork and references online, making it really convenient for us throughout.

Being the executor of my father's estate, the process of probating his will and dealing with the countless doctor bills to be paid, I was in the need for a realtor that knew the town of Maplewood and would bring in the most traffic while hopefully selling the house relatively fast. Needless to say, Ginge exceeded my expectations on every level as not only did we have many bids within a day of the open house, she negotiated the best deal possible in three days and the estate received a price well above the list price. She was always there throughout the process to assist us with any issues or questions that we needed answered or resolved. During what was a difficult time for our family, she certainly made the selling of my father's home less burdensome.

I highly recommend Allison and her associates. Allison helped my family sell our home in Maplewood, NJ. The amount of interest she garnered in the house was stellar - more than 30 people at the first open house, resulting in many bids the next day. Needless to say we were pleased with the results. We highly enjoyed working with Allison throughout the process. From the beginning she was enthusiastic, attentive and detail oriented. She brought confidence and experience to help us through the various bumps in the road that come with selling a house after 30+ years. Allison came in with ample research to determine a price point, and was also open to hearing our point of view on starting price. I could tell that the potential buyers and agents would also trust her advice. Allison has helpful connections in all related fields, from contractors to brokers to junk removal. She was in frequent contact with us, making sure that we were content with how everything was going at each step, and quickly reached out to us by phone or in person when discussion was needed. I'm not surprised she's one of the busiest agents in the area and I expect that the AZ group will continue growing.

As we were navigating the process of buying our first home, Allison couldn't have been a better realtor for us. She really took time to understand what we wanted and needed in a home. She sent us the home we ended up buying the minute it was listed, got us in to see it before the open house, and was extremely helpful in making our offer the most appealing, as we knew the price would draw multiple offers.   Allison always went above and beyond. She wasn't afraid to give an honest opinion, connected us with great resources from mortgage lenders to attorneys to inspectors, and most of all, she was so incredibly patient with us as we dragged our 3 little kids to everything - without hesitation, she would jump right in to hold one of our infant twins or entertain our 2 year old. We are very happy to have had Allison's guidance and can't thank her enough!

Sarah "Ginge" Calhoun did an excellent job as my agent when I was looking for an apartment in the Maplewood area. She responded to my questions promptly and directed apartment notices to me filtered according to my preferences. It was easy to arrange a showing with her, and she researched the answers to questions she could not answer immediately. She moved quickly when I was ready to commit. When I had difficulty with an automated tenant application check, she talked me through it (by email) and made sure that everything got done. She always responded rapidly and followed up thoroughly. After I had secured the apartment, I wanted to see it again to take measurements and to show my family. She facilitated that, and even took a cellphone video to help me remember features of the apartment. She followed through to delivering the signed lease, and continued to help me with logistical questions pertaining to the new apartment. I am delighted with the apartment, and with Ginge's energy and diligence in getting it for me.

We met Allison and Myrial about a year before we were ready to buy. They kept us updated on the market and answered any questions we had. They were very helpful, but also very patient with our timeline (there was no pressure to buy). Once we were serious about buying, they were incredibly responsive and accommodating to our schedule. Myrial even worked while vacationing in Vermont on Christmas Eve to write up our first offer. I can't overstate how responsive they were, which made us feel comfortable throughout the purchasing process. They helped put us in contact with everybody we could possibly need (finance, handy man, chimney specialist, locksmith, inspector, etc). If you're buying in the Maplewood / South Orange area, I highly recommend using Allison and Myrial. Buying a home is a major decision and long process, but they make it as seamless as possible.

We had a fantastic experience working with Allison! Not only is she incredibly professional, competent and knowledgeable, she also is empathetic. She's very sensitive to the needs of families, and is a true partner in working with you. She is extremely focused, diligent, and was a pleasure to work with during the entire process. As a local resident who has held positions in local government and with the education department, Allison knows our community better than anyone. She is the definition of customer focused, and ensures client satisfaction. It was wonderful having such a sense of confidence in your realtor! I will be retaining Allison again, and I recommend her without hesitation or reservation!

As first time home buyers the idea of purchasing a home seemed daunting, but Allison and her team were wonderful and made the process exciting and much less stressful. Allison took the time to walk us through each step of the process in detail and we never felt pressured to make a decision. Myrial was very helpful and great to work with during our home search as well. She was flexible, always reachable and provided her honest opinion and feedback. Their network of reputable contacts from home inspectors to lawyers was also a big bonus because we never had to worry about finding reputable service providers. We couldn't be happier with the whole process!

We highly recommend Allison and her team. We most appreciated her local knowledge as the Maplewood market is extremely unique. She was incredibly responsive and helped us in the sale of our first home, which we sold over asking. We are so glad we went with Allison and her team to sell our home.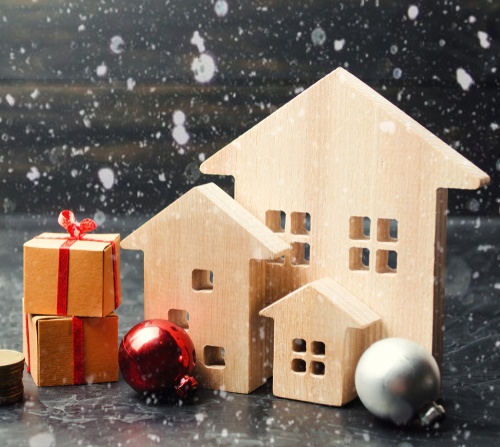 Are you selling your home during the holidays? While putting your home on the market right now may have you feeling like Scrooge, it can actually be a great time to sell. The trick is to put yourself in the…
Public Open House: Sunday, December 8th 2:00 – 4:00pm Property Details Charmingly framed by manicured shrubbery, 11 Wellesley Street in Maplewood is certain to catch your attention. Situated on a prime street in Maplewood's hot Hilton neighborhood, this engaging…
Your real estate market update for October 2019 is now available for each town in our local area. Click on the town links below to see all the transactions that closed during the month of October. You can also…