Latest Listings Updated Hourly
Find the latest listings available in your area in an easy to use search!
Find a Home »
Meet Allison
I am a local market expert who will deliver you excellent results and service
Connect with Allison »
Get a Pro Home Valuation
Would you like to know the value of your home? Get an expert evaluation!
Get your Report »
Home Page Text
Allison Ziefert Realtor in Maplewood, NJ
The Allison Ziefert Real Estate Group is a top-producing team at Keller Williams MidTown Direct Realty, the #1 real estate brokerage in Maplewood and South Orange, NJ. We are local market experts specializing in Maplewood, South Orange, West Orange, Millburn/Short Hills, Livingston, Summit, Chatham, Montclair, Glen Ridge, Bloomfield, Springfield, Union and surrounding New Jersey towns.
If you are looking to sell your home, you should know that our listings sell in half the time and for thousands of dollars more than market averages. If you are a buyer, you should know that we love getting to know new families and quickly connecting them with the right properties– even in a competitive market.
It's always our goal to provide the highest level of boutique real estate service coupled with candid advice and data so that our clients can make the best real estate decisions. The Allison Ziefert Real Estate Group has platinum level sales volume, but for us, the biggest reward in real estate is earning an excellent and heartfelt client testimonial from a happy buyer or seller.
If you're moving to the Maplewood/South Orange area there's only one realty team you need to know: Allison Ziefert Real Estate Group with Keller Williams MidTown Direct Realty. Our realtor, Ginge Calhoun, was excellent from start to finish. As first-time home buyers making our way out of Brooklyn, Ginge broke down all of the home buying steps along the way, she was very proactive and responsive, and her experience and connections within the community were a great resource. The rest of the AZ team was equally great. We can't imagine going through this process without Ginge or the AZ team.

We are so happy with the home buying experience we had with Ginge and the team at A to Z/MidTown direct realty! They have an intelligent and logical approach to the home buying process and offer great insights into neighborhoods, schools, logistics, home inspections, etc. We could not recommend them more.

Jaime is so incredibly helpful. A little about our move story, and how Jaime is amazing and legit made magic happen: My BF and I, thinking it was time to move, were driving around one SATURDAY and stumbled upon Maplewood Village. After getting a cupcake at the Able Baker and buying a book at Words, we knew we HAD to live there, and HAD to move in ASAP. Upon finding the spot we liked, we called on that very Saturday. She was incredibly responsive, getting us in to see the apartments available within a few days (being super flexible by working with our incredibly unrealistically hectic schedules), getting the lease prepared, and ultimately being available all month and move in day. She was even incredibly helpful with our apartment AFTER we moved in. I'm not so sure what our next step will be in terms of living arrangements. However, if our next move is anywhere within NJ/the tri-state area, you better believe Jaime will be the first one to know.

Allison, Ginge, Laura and Jamie are a fantastic team and we had a wonderful experience with them from beginning to end with the sale of our former home and the recent purchase of our new home. Their professionalism, attention to detail, honesty, integrity and expertise made our experience enjoyable and as stress-free as it could have been. I cannot recommend them enough!

Ginge and Jaime and their team helped us move on short notice, showing us a ton of homes in one weekend and then guided us expertly through the bidding and closing process. I can't recommend them highly enough!

Ginge's constant attention to detail, super-responsiveness, thorough knowledge of the housing market and efficient planning made the selling process as easy as possible for us. We felt completely comfortable working with her through every step of the process. If any roadblocks came up, Ginge would solve them immediately. Her willingness to go the extra mile to make things happen helped us to keep the selling process on track. She made selling a house way less stressful than it could have been. Ginge is a true professional who knows her stuff inside-and-out. This, combined with the fact that she added her warm, caring and friendly touch to every interaction left us knowing that we had the best partner on our side.We highly recommend Ginge to anyone considering a real estate transaction.

After renting for almost 20 years we decided to leave NYC and head west to the burbs. Buying our first home was daunting and scary and we had no idea what we were doing. Every realtor we met with spoke like this was our third or fourth house. Shrugging off my questions, glossing over the process and casually using words I've never heard before. Then we met Ginge. And at our first meeting she was able to explain the entire process of buying a house; start to finish this is what you can expect. She had a way of making the complicated simple. I never felt like she was talking down to us. The opposite really—it felt like she was on our team. Fast forward a few months to an accepted offer on a house and Ginge goes into business mode. What was just fun and dreamy shopping quickly turns into the largest financial negotiation we've ever made. She was there at every step. Answered every text, every phone call. Followed our lead when we knew what we wanted and advised us when we didn't. She was instrumental in negotiating a great deal on a beautiful new home. We've now been in our house for about 5 months and she's still answering questions we have as home owners. She's an incredible resource. I highly recommend her and everyone at AZ. Thanks Ginge!

Ginge (and team) were amazing! They were very helpful, upfront and honest and found us a great home. Closing was seamless and as painless as these things can be. Highly recommend especially if you, like us, are moving to the area from Brooklyn. Thanks again for all of your help! 

Allison, Ginge, and Laura are a superb team when it comes to selling your house. They are thorough, informed, and innovative. No matter what problem arose in selling my old home of 40 years, Allison could propose a solution. There are probably several area realtors who can handle a simple house sale. However, when the sale becomes complicated, the inspections troublesome, and the details cumbersome, I strongly recommend the experienced Zeifert team.

Allison was our agent when we purchased our home in 2015 and we naturally turned to her for help again when we decided to sell in 2019. She was an excellent seller's agent, advising and guiding us every step of the way as we prepped our house to be listed. When the house listing went live we couldn't believe how amazing the photography and custom website looked! Allison and her team truly made the house look the best it has ever looked. She also steered us in the right direction regarding pricing and we happily accepted an offer on our house after less than a week on the market. Allison and her team also helped us through all the "under contract stuff" (and in New Jersey there is a lot of "stuff") and what could have been extremely stressful ended up being essentially stress-free. All in all it was a great experience, and I can't recommend Allison and her team enough. 

Ginge and her team were amazing! Buying our first home felt overwhelming and intimidating, but Ginge held our hands through every step of the process and honestly made it so easy. Ginge was open and honest and listened to every worry and idea we had. Beyond that, she was just a joy to work with—full of good ideas for how to make our home ours, lots of solid info about the neighborhood, and super easy to get along with. Honestly can't recommend Ginge and her team highly enough!!

From start to finish Ginge and her lovely team held our hand through the whole search and buying process. Whenever there was a challenge, Ginge had fantastic recommendations to overcome and find a solution. She is intuitive, she listens and she understands a buyer's needs. She is determined to do the best and go above and beyond. She will help you find a place to really call home.

Allison represented me in the sale of my home.  From the beginning of the process, she and her team, including Ginge and Laura, provided detailed information every step of the way.  I was impressed with their extensive knowledge of the Maplewood market and the research that is done to develop the appropriate sales price.  I had never sold a home before and felt reassured by their thorough explanation of everything from preparing home for sale, pricing, listing, closing and negotiating the sale etc.  It was extremely helpful that Allison's team scheduled the necessary inspections and Laura came to the rescue with a compliant fire extinguisher in her car when ours wasn't going to pass!  This saved the day and we didn't have to reschedule. Allison was always available for questions and provided expert and calm advice in the midst of nerve wracking situations. Everyone on the team is professional and personable creating an experience I would gladly recommend to anyone buying or selling.

A terrific agent backed by a great team.

My partner and I had a wonderful experience working with Ginge and the rest of the team at Allison Ziefert Real Estate Group to buy our house in West Orange. The whole process went much faster than we anticipated (we found our house on our first day out with Ginge!) so, as first-time homebuyers, we had a lot to figure out in a short period of time. Ginge and team are incredibly responsive, organized and well-informed about the local area and the real estate process; they made sure things ran as smoothly as possible. We relied on their recommendations for our attorney, mortgage banker and inspectors and were very happy with the entire team we worked with. If you're looking for a dedicated and knowledgeable professional to help with buying a house in the West Orange/South Orange/Maplewood area, I would highly recommend Ginge and her team.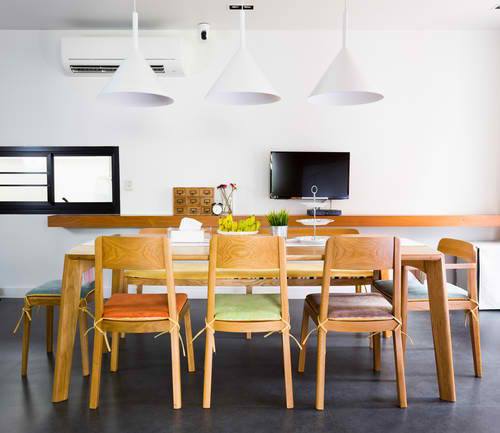 It's a new year AND a new decade! Could there be a better time to update your home's interior? We don't think so. Whether you've just moved into your new home or you want to refresh your home for sale,…
The SOMA Community Coalition on Race held multiple events to celebrate the annual Dr. Martin Luther King, Jr. day of observance on Monday, January 20, 2020. The official observance event was at 2:00 PM at Columbia High School. Hundreds of…
Can you believe it? It's 2020 and we are celebrating 10 years in real estate! We are incredibly thankful for our clients who enabled us to build an amazing team and allowed us to partner with them on their real…